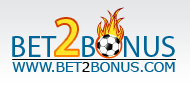 Terms and conditions
Tips, predictions, reviews and strategy published on Bet2bonus are only our own opinions and have advisory function. Bet2bonus is not responsible for any money losses resulted from following the tips and/or strategies presented on the website.
Betting is illegal in some countries, or areas of countries. It is the sole responsibility of the user to act in accordance with their local laws.
If you would like to reproduce any of the original material on this site such as strategies and reviews please contact us and we will be happy to consider your request.
The membership on Bet2bonus is free of charge and does not involve any additional obligations. You are not allowed to register more than once. We keep the right to delete the accounts of those users, who are found to be using more than one account and of those, who in our opinion are abusing the good spirit of the site.
Bet2bonus respects the privacy of visitors to our site. We are committed to protecting your privacy online. We use information we collect about you to provide you with the services which you may access through our web site. We appreciate that you do not want the personal information you provide to us distributed indiscriminately and here, we inform you how we collect information, what we do with it, who has access to it and what controls you have over its use.
When you register with Bet2bonus you just provide your Name, E-mail, Telephone Number and Location. We need this basic set of details in order to create your personal account at our website. Once you become a member you could further develop your profile by including other details about yourself.
All the information that we collect from you is used to improve and provide a better service to you and everyone else on the Bet2bonus platform.
We use information collected from you in order to contact you from time to time with the latest news and features around the Bet2bonus platform. This may include but is not limited to the Bet2bonus website, mobile applications, beta versions of the service and/or anything related to Bet2bonus . We can also contact you via email in regards to our newsletter, notifications that you have requested, and or other promotions or deals available to you and everyone else who is registered to the service.
We may use your information in order to present general overview of the platform's success. This may include information about the number of achieved Bet2bonus participants, general satisfaction based on everyone's Bet2bonus profiles, and similar features. Such statistics will not be linked to particular users and will not disclose personal information details.
We may use some of your information to measure the success of our features, exercise the terms of service, fight illegal activity such as spam, scams and other malicious actions. This may result in disabled features and/or some parts of the website for which we could not be held liable.
We do not sell, trade or rent your information provided to us to others. We can only transfer this information to other subject in case of sale of whole site. We may need to disclose your provided information to third parties where this is required by law or where this is necessary for the function of a service provided to you. We may provide statistics about visitors, sales, traffic, etc. to third party vendors but these will not include any identifying information.
When you visit our Site, we automatically log your IP address and pages visited. It help us administer the Site and to collect broad demographic information for aggregate use.
Bet2bonus game is targets for fun. To participate in this game you do not need from any funds. Bet2bonus game is completely free.
Eligible to participate only adults (age 18 or 21 years)
You consent to our collection and use of information and to the use of that information in accordance with the privacy policy set out above. If we change our privacy policy in any way, we will post these changes on this page. You should check these terms on frequent basis.
Bet2bonus team